Mark partners with clients whose bottom lines are a function of their effectiveness, who are serious about making more money and having more fun doing it – entrepreneurs, sales people, service providers, etc.
You can hop on the show and directly ask questions!
Special Offers:
50% Off USE PROMO CODE: halfoff7 For My Course NOW! Click the cover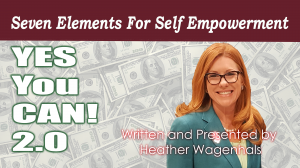 Get your FREE book from our sponsor Audible at
AudibleTrial.com/UnlockYourWealth
and click on the link to choose from over 150,000 titles for your iPhone, Android, Kindle or MP3 Player!
Join us on Instagram (
http://Instagram.com/UnlockYourWealth
) Wednesdays at 7:30 PM Eastern where Heather shares her mid-week update! also follow @unlockyourwealth so you always know every time Heather does the new broadcast. For free tools and resources, give Heather an inbox message after each show for the complimentary resource she offers. FREE is GOOD! Do it now!
Featured Expert Links:
JIM WOODS
DR. MARK SKOUSEN

BRYAN PERRY

Premium Income

HILARY KRAMER
Tags:
Personal finance, investing, ID theft, wealth, health, wisdom, luxury lifestyle, pleasurable pursuits, millionaires, keys to riches, money, credit, heather wagenhals, hilary kramer, mark skousen, bryan perry, bob carlson, mike turner, jim woods, investing, jim woods investing, stock market, bond market, retirement, 2019 predictions, 2018, bear market, bull market, FreedomFest, renaissance man, renaissance woman, inflation, stocks, bonds, options, trading, market crash, foreign currencies, precious metals, gold, silver, platinum, palladium, rare coins, successful investing, intelligence report, newsletter writer, newsletter, investing newsletter, newsletter editor, objective thinking, critical thinking, decision-making, heather wagenhals, goal setting, mark michael lewis, thrive coach