Dec 13, 2013
Captain Tom Bunn, licensed therapist, connects your fear of flying and your fear of money with Heather Wagenhals this Friday morning on the Unlock Your Wealth Radio Show at 9:00am (PST). Graduating from the Neurolinguistic Program and The Masters Institute in New York, Bunn became a licensed therapist for his fear of flying program, SOAR. Listen as Bunn shares the three different phases of strengthening exercises to use both on and off an airplane.
This week's trivia is based on last week's Key, Remember Real Estate plus Minutes on your Money and more during Declare Your Financial Independence 2013.
This Week's Key in the Keys to Riches Financial Wellness Series:
Forget the Perfection Principle
Tune in to learn how to manage money easier, in less time reducing money stress and choosing to create wealth and happiness with Heather's proven strategies right here http://UnlockYourWealthRadio.com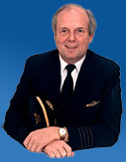 Bio: Tom Bunn graduated from Wake Forest University in Psychology, and soon became Captain Tom entering the U.S. Air Force. Number one in his class when he got his wings in 1960, he was given his choice of assignments, and chose to fly the Air Force's first supersonic jet fighter, the F-100.