Jul 26, 2019
FreedomFest at the Paris Hotel Casino in Las Vegas, Nevada was epic.
Last week brought together some of the brightest minds in the world to debate, appreciate, celebrate, preserve and protect liberty and freedom in what is called, "The Largest Gathering of Free Minds."
Unlock Your Wealth Today
is a proud
FreedomFest
media sponsor and we interviewed everyone we could get a camera in front of to explain why your must have personal and political freedom in order to have financial freedom.
In this episode, I broadcasted live from the event floor on media row with my special guest co-host, Jim Woods. Our Unlock Your Wealth GPS and Top Market Analyst, Jim helped me to share:
what FreedomFest is all about
what talks and individuals made the event memorable for us
upcoming guests to look forward to watching
and much more...
Plus, you get to watch first-hand why Jim is referred to as the Freedom-Championing Philosopher as he shares some of the values and ideas of why liberty must be defended and good ideas must be promulgated for the sake of the individual.
Here is just a taste of the list of upcoming guests for this season: Veronique de Rugy, Dr. Joel Wade, Stephen Hicks, Grover Norquist, Caleb Huey, Tal Tsfany, John Paul Mendocha, Nick Tomboulides, Sean Flynn, Mike Turner and Jeff Kanter to whet the appetite.
***SPECIAL OFFER***
Check out Jim Woods' FREE Report for Unlock Your Wealth Today viewers
here
.

Learn More with Resource Links:
This Week's Key:
Take Action, Make Assessment

You can hop on the show and directly ask questions!
Join us on Instagram (
http://Instagram.com/UnlockYourWealth
) Wednesdays at 4:30 PM Eastern where Heather shares her mid-week update! also follow @unlockyourwealth so you always know every time Heather does the new broadcast. For free tools and resources, give Heather an inbox message after each show for the complementary resource she offers. FREE is GOOD! Do it now!
Special Offers:
50% Off USE PROMO CODE: halfoff7 For My Course NOW! Click the cover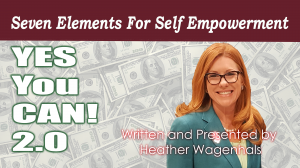 ***
Get your FREE book from our sponsor Audible at
AudibleTrial.com/UnlockYourWealth
and click on the link to choose from over 150,000 titles for your iPhone, Android, Kindle or MP3 Player!
Featured Expert Links:
| | |
| --- | --- |
| Premium Income | |
Tags:
FreedomFest, Personal finance, investing, ID theft, wealth, health, wisdom, luxury lifestyle, pleasurable pursuits, millionaires, keys to riches, money, credit, heather wagenhals, hilary kramer, mark skousen, bryan perry, bob carlson, jim woods, investing, jim woods investing, stock market, bond market, retirement, 2019 predictions, 2018, bear market, bull market, FreedomFest, renaissance man, renaissance woman, inflation, stocks, bonds, options, trading, market crash, foreign currencies, precious metals, gold, silver, platinum, palladium, rare coins, successful investing, intelligence report, newsletter writer, newsletter, investing newsletter, newsletter editor, objective thinking, critical thinking, decision-making, heather wagenhals, goal setting, Bullseye Stock Trader
---