Jun 18, 2019
Welcome to Unlock Your Wealth Today, Your Life, Fully Invested©. I'm Heather Wagenhals and I'm making success simple by helping people just like you overcome your personal and professional challenges to get out of debt, Achieve Financial Freedom, and live the life of your dreams right now today with my biology-based approach to success.
On this episode of Unlock Your Wealth we're going to answer that question and I have a very special invitation for you.
Each July in Las Vegas, the "world's largest gathering of free minds" takes place. It's called FreedomFest, and it is THE event for anyone who cares about personal freedom, constitutional rights, privacy, financial prosperity, social progress, technological advancement and the future of the country.

This year, you'll join thousands of like-minded, liberty-friendly attendees as you hear directly from the likes of:

* Kevin O'Leary also known as "Mr. Wonderful" from Shark Tank
* Penn Jillette of Penn & Teller fame and "Can You Fool Us?"
* Candace Owens of TurningPoint USA
* Stephen Moore Chief Economist from the Heritage Foundation
* John Mackey of Whole Foods Market
* US Senator Mike Lee
* Glenn Beck Founder of The Blaze
* Kevin Sorbo star of the Hercules TV show
* John Stossel of Fox News and Stossel in the Classroom
* Herman Cain Former Presidential Candidate
* And Many more

There's Something for Everyone at FreedomFest
* Big Debates and Panels
* Anthem Film Festival
* The Pitch Tank
* A Full Investment Conference
* And Fun Social Events...

* Check out the Program for all the details and be sure to drop by the Unlock your Wealth studios booth along media row where we will be broadcasting live and you can be a part of the show.
Also, back again is quarterly co-host, top market analyst and freedom championing philosopher, the Renaissance Man Jim Woods.
Check it all out here at https://www.freedomfest.com/unlock
Because you are a valued member of this audience, FreedomFest has a special offer just for Unlock your Wealth fans ...just Use code unlock2019 and get $150 off the full rate of $695. You pay just $545 and you can add a guest for just $300 more! A great deal for a truly remarkable event.

Register Online https://www.freedomfest.com/unlock or call the FreedomFest team at 855-850-3733 ext 202 by June 30.
***SPECIAL OFFER***
Check out Jim Woods' FREE Report for Unlock Your Wealth Today viewers
here
.

Learn More with Resource Links:
This Week's Key:
Dreams with Deadlines

You can hop on the show and directly ask questions!
Join us on Instagram (
http://Instagram.com/UnlockYourWealth
) Wednesdays at 7:30 PM Eastern where Heather shares her mid-week update! also follow @unlockyourwealth so you always know every time Heather does the new broadcast. For free tools and resources, give Heather an inbox message after each show for the complementary resource she offers. FREE is GOOD! Do it now!
Special Offers:
50% Off USE PROMO CODE: halfoff7 For My Course NOW! Click the cover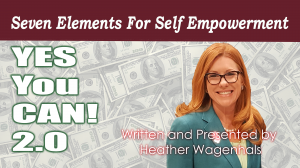 ***
Get your FREE book from our sponsor Audible at
AudibleTrial.com/UnlockYourWealth
and click on the link to choose from over 150,000 titles for your iPhone, Android, Kindle or MP3 Player!
Featured Expert Links:
| | |
| --- | --- |
| Premium Income | |
Tags:
FreedomFest, Personal finance, investing, ID theft, wealth, health, wisdom, luxury lifestyle, pleasurable pursuits, millionaires, keys to riches, money, credit, heather wagenhals, hilary kramer, mark skousen, bryan perry, bob carlson, jim woods, investing, jim woods investing, stock market, bond market, retirement, 2019 predictions, 2018, bear market, bull market, FreedomFest, renaissance man, renaissance woman, inflation, stocks, bonds, options, trading, market crash, foreign currencies, precious metals, gold, silver, platinum, palladium, rare coins, successful investing, intelligence report, newsletter writer, newsletter, investing newsletter, newsletter editor, objective thinking, critical thinking, decision-making, heather wagenhals, goal setting, Bullseye Stock Trader